This lists the latest Peals and Quarter Peals achieved by the Royal Naval Guild of Bellringers and will eventually list all the peals completed by the RNGB, including two which were achieved before the official formation of the Guild.
Details of earlier successful Quarter Peals can be found by clicking here
Vice Admiral Sir Barry Nigel Wilson KCB Quarter Peal 13th October 2018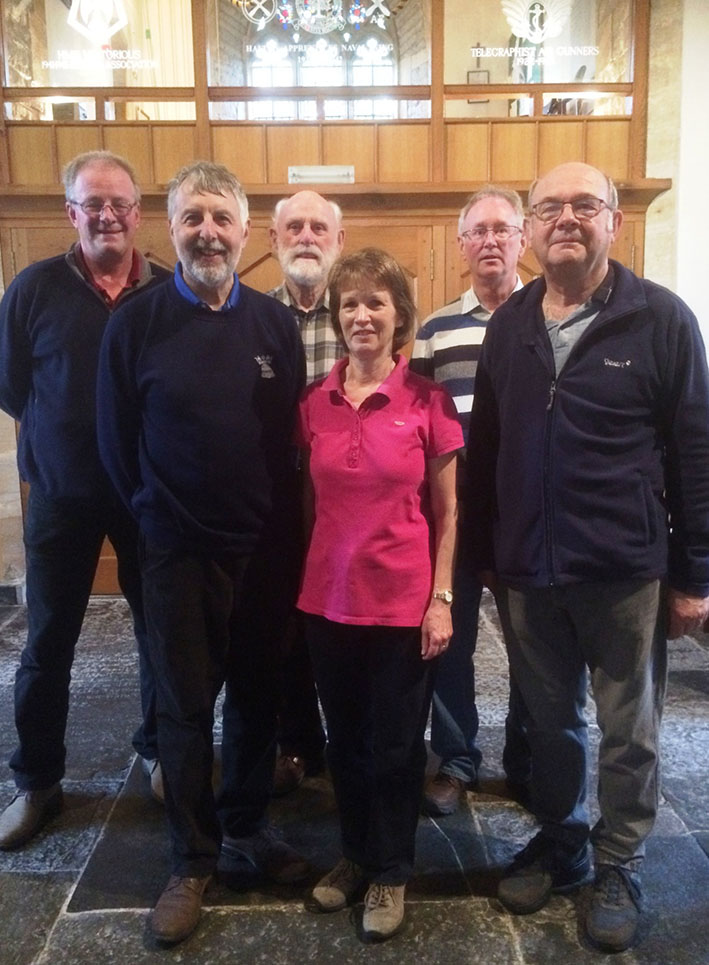 Royal Naval Guild of Bellringers
Yeovilton, Somerset
St Bartholomew
Saturday 13 October 2018 in 47 minutes(13–0–25 in F)
1260 Grandsire Doubles
1 Debbie Stott
2 John Pidgeon
3 John Stott
4 Clive Hancock
5 Mark Robins (C)
6 Graham Brown
Rung by members of the RNGB and guest ringer Clive, in memory of Vice Admiral Sir Barry Nigel Wilson KCB, past president of The Guild.


RNGB Queen's Birthday Quarter Peal Day 2017 Report - please click on heading for details
RNGB Quarter Peal Day 2017 Report - please click on heading for report and details
Denis Martin Quarter Peal 21st October 2016 (Trafalgar Day)
Royal Naval Guild of Bellringers
Alfreton, Derbyshire
St Martin
Friday, 21 October 2016 (10–2–27)
1272 Cambridge Surprise Minor
1 John Pidgeon
2 Diana Wraight
3 John Stott
4 Paul Wotton
5 Tim Wraight
6 Pauline McKenzie(C)
For Trafalgar Day and in memory of Dennis Martin, RNGB member since 1979, who sadly passed away on 11th September 2016
RNGB Quarter Peal Outing to commemorate the Centenary of the Battle of Jutland 31st May 1916
On the 31st of May 1916, the British and German fleet's met for what became known as the bloodiest Naval Battle in British history, with over six thousand British and two and a half thousand German deaths by the end of the day. This was the only major naval engagement of the First World War and controversy has surrounded its outcome ever since, with no clear winner or loser. It was thought appropriate that the Royal Naval Guild of Bellringers should mark the centenary, so we met for a quarter peal day in Wiltshire, that being a central location for those travelling. Respectable quarters were rung at Bishops Cannings and at Calne, with a final ring at Royal Wootton Bassett.
Bishops Cannings, St Mary the Virgin, Wiltshire, Tuesday, 31 May 2016 in 47 mins (15–1–21 in E♭)
1260 Plain Bob Minor
1 Lewis Cobb
2 H John Verity
3 Diana Wraight
4 Anna Gawley
5 Tim Wraight
6 Mark Robins (C)
7 Steve Lowman
Calne, St Mary the Virgin, Wiltshire, Tuesday, 31 May 2016 in 50 mins (23–2–19 in D)
1260 Grandsire Triples
1 Diana Wraight
2 H John Verity
3 Anna Gawley
4 James Ingham
5 Tim Wraight
6 David Thorpe
7 Mark Robins (C)
8 Steve Lowman
Thanks to Hungerford ringer Dave Thorpe for standing in at short notice.
Some of the band have family connections to the Battle as follows:
COMMANDER J.G.P. INGHAM DSO ROYAL NAVY (above), uncle of James Ingham (Captain Royal Navy retired) was Executive Officer of HMS WARRIOR at the battle. HMS WARRIOR, a cruiser of 13,550 tons, was heavily damaged in the battle and was taken in tow by HMS ENGADINE who transferred her surviving ship's company. She was very low in the water and later, in a rising sea, she was abandoned and sank. Commander Ingham retired in the 1920's and was recalled to further service in 1939.
Anna Gawley's Great Grandfather Frederick Brookes, joined the RN in 1904 on his 18th birthday. He went from shipyard riveter to signal boy and on to become petty officer. From 1912 until the end of the war, he was in HMS COCHRANE and was at the Battle of Jutland as a leading signalman. HMS COCHRANE was a Duke of Edinburgh class cruiser of 13,550 tons and was in the Second Cruiser Squadron, commanded by Captain Eustace La Trobe Leatham. Leatham's account of the proceedings states that for much of the battle, she was in line behind HMS MINOTAUR with her visibility obscured by MINOTAUR's funnel smoke for practically the whole of the action, so did not engage the enemy. In 1918 she broke in two when aground in the River Mersey and was broken up in situ. Fred was demobbed in 1919 becoming a motor engineer's clerk at what would have been Thorneycroft in Basingstoke. He died in 1929 of cancer aged only 43.
Mark Robins
Barbara Skilleter Quarter Peal 29th November 2014

Royal Naval Guild
Havant, Hants
St Faith
Saturday, 29 November 2014 in 50 mins (15 cwt)
1344 Grandsire Triples
Composed by David Ellery
1 Anne Tautz
2 Mavis Whitehead
3 Diana Wraight
4 James Ingham
5 John Stott
6 Tim Wraight
7 Mark Robins (C)
8 Steve Lowman
Rung in loving memory of Barbara Skilleter, member of the guild and Tower Captain at this tower for 18 years
Greenwich 300 July 2014
The weather for the day was perfect, sunny but not hot with a good breeze. We all met early at St Alfege, Greenwich, in an area buzzing with visitors, school trips and amidst concert practice in the church. Joan was accompanied by Christina McGilligan-Fell, director of the John Harrison Foundation, and we were told that Officials from the nearby Royal Observatory were also aware of our visit and had come to listen, so no pressure on us!
We got going promptly and rang a very good quarter of Grandsire Triples on the back 8 of this majestic and lovely sounding 10. The ringing was a credit to the band. We then proceeded to the Meridian Ringers local pub, the Ashburnam Arms, to an excellent lunch and then on to St Michael, Woolwich. This 12 cwt 8 went ok but the trebles were difficult to hear amidst the back bells. Jenny unfortunately fell and hurt her shoulder on our way to lunch, so felt unable to ring and was replaced by our host Graham, of the Meridian Ringers, who kindly agreed to stand in. We started with Plain Bob Major but it was clear after a few minutes that it wasn't going to go, so we switched to Plain Bob Triples. We were more successful with triples and, although not without incident, scored the quarter. Then, after farewells, we all headed off home with an enjoyable day behind us.
A particular thank you is due to Graham Long of the Meridian Ringers for the arrangements, hosting us so well and stepping in to ring at short notice.
Armed Forces Guilds of Bellringers
Greenwich, Greater London
St Alfege
Wednesday 9 July 2014 in 50 mins (23 cwt)
1260 Grandsire Triples
1 K Joan Barton
2 Jenny Jones
3 Christine Baldock
4 John Verity
5 Anna Gawley
6 Trevor W Groom
7 Mark Robins (C)
8 Steve Lowman
To mark the 300th Anniversary of the Act of Longtitude, enacted 9th July 1714.
Rung on the back eight, by members of the Royal Naval and Royal Air Force Guilds of Bellringers and guests.
Also present: Christina McGilligan-Fell, Director of the John Harrison Foundation.

Armed Forces Guilds of Bellringers
Woolwich, Greater London
St Michael
Wednesday 9 July 2014 in 46 mins (12 cwt)
1260 Plain Bob Triples
1 John Verity
2 Anna Gawley
3 Christine Baldock
4 Trevor W Groom
5 Graham Long
6 K Joan Barton
7 Mark Robins (C)
8 Steve Lowman
Rung to mark the 300th anniversary of the Act of Longtitude, enacted 9th July 1714.
A birthday compliment to Graham, and thanks to him for stepping in at the last minute, when one of the band was indisposed.
Armed Forces Centenary Peal 8th January 2014
Armed Forces Guilds
Gillingham, Kent
St Mary Magdalene
Wednesday, 8 January 2014 in 2hrs 54 (11 cwt)
5056 Plain Bob Major
Composed by Frederick A Holden
1 Terry Earle
2 Diana R Wraight
3 Alan R Baldock
4 J Rodney Pagdin
5 Timothy S Wraight
6 Ian J Culham
7 Pauline Champion
8 Mark D Robins (C)
Rung by a combined RN, Army and RAF Guilds band to mark the centenary of the first peal by an all Armed Forces band, Plain Bob Major, rung at Gillingham on January 8th 1914.
Thursday 8th January 1914 in 2 hrs 57 mins
A Peal of Plain Bob Major, 5056 changes
Composed and conducted by Frederick A Holden
1 William A Cooke, Warrant Officer RN
2 Frederick A Holden Sgt, Royal Marines
3 Alfred A Playle Stoker RN
4 Frederick J Souter Pte, Essex Regt
5 George Gilbert Cpl, Royal Engineers
6 Victor A Jarrett Musician, Royal Engineers
7 Percy Gibbs Pte, Kings Own Regt
8 James Bennett Sgt, Royal Marines